Meet the Absolute Yoga INSTRUCTORS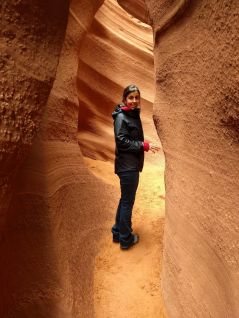 Natalie Breslau, I was fortunate to begin my practice at the age of 25 with Ashtanga vinyasa and went to Mysore, India to learn from Sri K Patthabi Jois and his grandson and paramaguru, Sharath the same year. I was drawn to the physical practice as well as the mental benefits I experienced. The practice of the breath, in particular, continues to remind and teach me with calm and clarity that I draw on in every aspect of my life.

I continue to enjoy growing my own daily practice and encourage others to build their own personal practice that is both accepting and challenging. In addition to sharing traditional vinyasa, I have familiarity and a special interest in bringing yoga and mindfulness techniques to teens in middle school, particularly with special needs. Over the years, I have experienced the practice of yoga supporting the emerging abilities in executive functioning, self-regulation, and self acceptance. I believe that all yoga should be fun and accessible!

In addition my teaching certification, I have attended several Ashtanga and Autism & Special Needs teacher trainings. My most important training, however, comes from my daily personal practice. 
---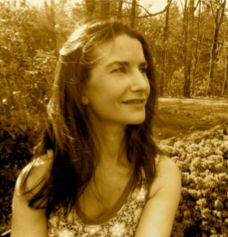 Michelle Bullock, 200 HR RYT. I started practicing yoga in 2008 and was hooked immediately. My yoga practice made me feel happier, grounded and more energized. Yoga has provided me with invaluable tools to be more mindful, self-aware and present in my relationships with myself and others. I am so grateful that I can share this practice with others and spread the joy of yoga. I am a 200HR RYT with the Yoga Alliance. I was certified through the Body Matrix Transformational Yoga Teacher Training. My goal as a teacher is to offer a supportive and safe space for both new and experienced students to explore yoga at their own pace. I aim to encourage students to recognize the power within themselves and to practice yoga with an open heart and without expectation. In my classes you will experience an all levels asana practice incorporating conscious breath work, creative sequencing and fun music. My happy places are being by the ocean, rocking out to great music, traveling to new places, hiking, camping, and spending as much time as possible with my family and friends.
---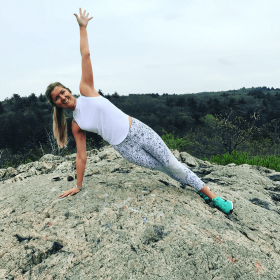 Katie Lamie, I started practicing yoga while studying at Boston College, and I have been an avid student for over ten years. I enrolled in teacher training seven years ago, as a way to manage my stress levels and quiet the pain I was experiencing from scoliosis.
Little did I know that training would lead me down a new career path, introduce me to some of my closest girlfriends and open me to an entirely new way of living my yoga off the mat. I am so grateful for the path yoga has led me down.
As a teacher, I LOVE teaching yoga to kids, tweens and teens and I infuse my classes and workshops with mindful crafts and unique group activities. My goal is to create a sense of community and fun in class too. I hold certifications in holistic health counseling, reiki, aromatherapy and many of these complementary trainings allow me to amplify my skills as a yoga teacher. As a young girl, I was always a worrier. Now, I teach yoga to boys and girls because it is the gift I wish I had, and I believe it can help shape their understanding of the incredible mind-body connection.
---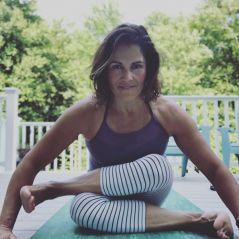 Natasha Linton, In 2010, a year after the delivery of my third child, I had a health crisis. The combination of living a high stress life, the loss of my dad and not having any mindfulness or grounding in my life. I desperately needed to make drastic changes in my life. Per my doctor's recommendation I was looking for a yoga studio to attend classes. As luck would have a new studio opened in my hometown. It was time for a drastic personal transformation - a revolution - and found a pathway at the new yoga studio. I began to transform from the inside out. I realized the positive impact the changes were making in my life with my husband, kids and other people I love. In 2016, I took the next call of action and signed up for Yoga Teacher Training to deepen my practice both in daily life and on the mat.

I strongly believe in continuing education and building the wisdom of the body through the disciplines of Yoga and Ayurveda. I am most proud of my ongoing participation with Baptiste Yoga workshops and certifications. I am currently studying with Dr. Frawley at The American Institute of Vedic Studies, Ayurvedic Lifestyle Counselor, holds an Ayurveda Systems Health Educator from V.A. Shiva Ayyadurai. I hold a NASM Certified Personal Training & Corrective Exercise Certification and hold a Health Coach Certification from Dr. Sears Wellness Institute.

I am a passionate teacher with an intelligent, strong, and playful practice to help students sensitively challenge themselves to step into their most powerful and authentic self.

I am eternally grateful to have found Yoga and Ayurveda to light my path and am continually humbled and inspired by students, fellow teachers and mentors for their loving wisdom.
---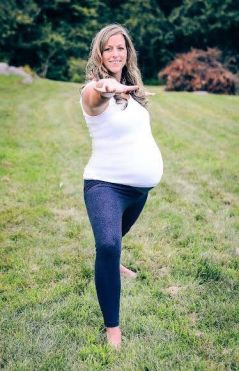 Ally Marsh, R.Y.T. was introduced to yoga while an undergrad in Vermont. She eventually settled in Boston and began training which culminated in a Master's level licensed mental health counselor specializing in expressive therapies.  She began using art, music and movement to aid others through mental health difficulties and found the integral benefits of yoga for her own self care as well as for the benefit of others.  Yoga is the perfect balance for connection to the mind, body, and mindful awareness of the connection.  She was further inspired to expand her yogic path while working on a women's mental health unit and took a leave to become trained as a 200-RYT, certified in Vinyasa Flow Yoga. The training in Costa Rica under the teachings of Jacqueline Heisle, incorporated the physical, emotional, and combined whole self approach to self improvement.  Ally's classes incorporate alignment as well as a creative heat-building flow. Her classes are adaptable to new yogi's or those with an established practice. She creates a setting of nourishing comfort balanced with challenge and encourages students to set a heartfelt intention and then allow the asana to float to that space.  She utilizes other senses such as sound, scent, and touch to facilitate a whole self experience. Ally continues to be inspirited by teachers such as Shiva Rea, Ana Forrest, Ame Wren, Georgia Reath, as well through the guidance of all teachers she has been lucky to follow.
---
Deb (Newman) McGonnell, I guess I've always loved moving, whether dancing, turning cartwheels, strolling in the woods or along the shore, but yoga took root as my favorite way to move with weekly yoga classes, way back in the late 1990s. Feeling both grounded and expansive, I was compelled to go deeper into the science and practice of this ancient art, so I studied with Diane and John Featherstone of Frog Pond Yoga in Princeton, MA where I certified in hatha yoga in 2002. After taking many trainings, classes and teaching for several years, in the spring of 2013, I spent a month in Kerala, India where I earned my RYT-500 certification. Still, I knew there was more to explore with my mind as well as my body and I completed training in Mindfulness Based Stress Reduction (MBSR) the following year.

Ever the curious student, I continue to develop my own practice and inspire my teaching by taking classes with master yoga teachers, especially Natasha Rizopoulos. Besides yoga, I love to travel and meet people all over the world and spend time with family and friends. Yoga is such an integral part of my life, I almost can't remember what life was like before it, and like a true friend, I treasure it and always will.

Teaching yoga, to me, is an ongoing exploration and a gift, which I am compelled to share with others; personally, there is nothing quite as gratifying as witnessing my students experience the power and joy of the union of body, mind and Self.

 
---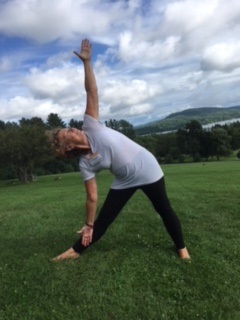 Michele Proulx, I started on the yoga mat 6 years ago. I was awkward, not flexible, lacking upper body strength, and wondering what was I doing trying to do these poses. I soon found out that I had found a studio that would not judge and give me the tools and time to improve my flexibility, strength, balance, and peace of mind.
What started off as once a week, shortly became two days practice, then three and then four. I found my way not only through Kripalu Hatha Yoga, but Vinyasa Flow, Yin Yoga, Restorative Yoga, and Yoga Nidra experiences. Needless to say I had fallen in love with the practice of yoga. If someone had told me when I started this journey that I would decide to someday teach yoga, I would have looked at them puzzled.
In 2017 I had the awesome privilege to model for one of my instructors for her beginner class as she was dealing with an injury. This gave me the confidence that I was ready to be in front of a class and teach. In January of 2018, I was off to Kripalu Center for Yoga and Health in Stockbridge, MA one weekend a month for intensive training until August of 2018 when I graduated.
Through this transformative time of my yoga journey, I had decided that it was time to leave the print industry after some 40 years in educational and commercial printing. I was driven to give my life new meaning and purpose. I wanted to share the benefits of yoga with as many people as I could.
I want to give students a comfortable and safe community in which they too can gain strength, flexibility, balance, and breathing techniques to support their own journeys on the mat. Yoga practice for me is about building a community for all to grow in. I will continue learning and practicing as I feel I have merely dipped my toes into the waters of yoga.
My other passions are hanging out with family and friends, walking the National Seashore on Cape Cod - playing in tidal pools and gathering stones and driftwood, digging the earth in my perennial gardens and watching nature takeover, writing poetry, drawing and making art!
---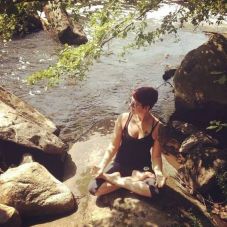 Shannen Marie Roy, 200HR RYT Teaching kid's yoga takes a truly special kind of person. Her lighthearted, creative nature and passion for yoga shines through in all that she does on and off the mat. Her classes offer children an encouraging space to truly shine their own inner light through yoga postures, meditation, mindfulness, breathing, games, songs, imagination, creative self expression and most importantly....having fun! Shannen began her yoga journey in 2005, finding alternative ways to help get through illness. She knew at once it would become a lifelong practice. She is a certified Kidding Around Yoga instructor, certified Yoga4Sobriety instructor as well as certified Yoga for Families of Addiction instructor. Shannen received her 200 hour yoga teacher training certification through State of Grace Yoga & Wellness in Uxbridge, MA.
---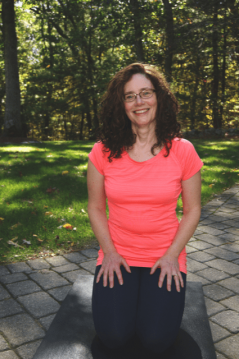 Kathleen Snapper, I began practicing power yoga in 2003. Having been active in group fitness classes and martial arts for many years I found a more peaceful energetic feeling practicing asana and making the connection with my breath. When my children went to college, I spent a year on self-discovery and during that journey, began yoga teacher training. I completed a 200-hour RYT in Vinyasa Power Flow in 2013 and in 2017 completed Yin Yoga teacher training. This summer, 2019, I took an additional training with Peggy Cappy in New Hampshire. Peggy is well know across the United States and Canada for teaching a series on PBS "Yoga for the Rest of Us".

The Vinyasa practice speaks to my body because it's like a dance for me. It is an energetic, meditative practice moving from one pose to another, always connecting to the breath. The Yin practice is deeply meditative and more stationary allowing the body to become still, the breath to become quiet and the mind to slow down cultivating a deep awareness of mind and body. Every Body is not the same however and I often tell my class to listen to the body. I offer modifications in all my classes, but training with Peggy Cappy in "Yoga for the Rest of Us" has given me even more tools to work with to modify poses for Every Body, no matter the shape or age or flexibility. I am really looking forward to offering a new class in this modified approach for Every Body.

Teaching yoga truly brings me joy. I feel an overall sense of compassion, peace and love from yoga. I care about people and I want to help others find that place of peace because we need more kindness and compassion in the world and I believe that when people come together and find a little bit of that in a yoga class they can walk back out into the world and spread a little kindness with something as simple as a smile for someone they pass on the street.
---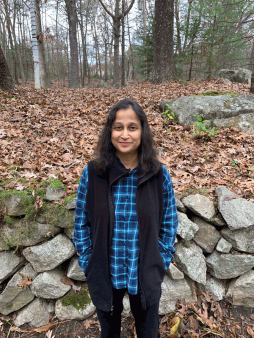 Shuba Wavikar, I am originally from India, I see yoga as a way of life. I have a deep appreciation for the mind, body and breath connection of yoga. I am a keen student of yoga philosophy and yoga anatomy. Yoga, to me, is an incredible - often transformative - blessing that should be accessible to everyone - to all bodies and all abilities.
I embarked on the teaching journey to deepen my own practice, and to be able to humbly share this legacy with others. I received my 200 hour and 300 hour teacher training at The Yoga Studio in Millis, MA. I am enrolled in an additional 300 hour teacher training at Down Under Yoga, Newton and Brookline, MA. I am trained as a Divine Sleep ® Yoga Nidra teacher. I am also a certified Kidding Around Yoga (KAY) Teacher (for kids' yoga), and teach at a daycare. I have several continuing education hours in senior yoga, and teach chair yoga at two retirement living facilities.
I see each student is a great teacher, and I look forward to a continued exchange of learning..
---
Meet our Collaborative Community Teachers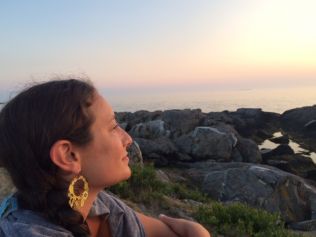 Gina Del Prete, I took my first yoga class when I was 17 and never looked back. I was struck by how remarkably better I felt and to this day yoga has yet to prove otherwise. I received my 500 YTT certificate in June of 2016 from The Yoga Studio in Millis and became a certified Reiki level two practitioner in 2017 from the Sacred Tree in Norfolk. I am currently working toward a master's degree in clinical social work from Simmons University with the hope of combining both modalities of yoga and counseling in the near future. For now, I enjoy sharing the teachings of yoga with others and want to pass on the exceptional influence yoga continues to offer. I love how yoga teaches supportive techniques through the ongoing journey of self-discovery that takes place in all of us. I prefer to guide my class with an alignment-based style and incorporate breath work with various elements of Hatha, Iyengar, restorative and gentle flow.
---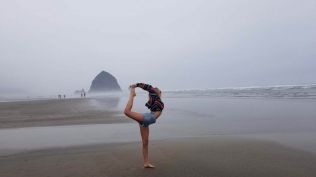 Erin Powers, I am happy and excited to bring Yin Yoga to the studio.  Teaching Yoga brings me an overwhelming sense of connection and joy.  I work to cultivate a caring and compassionate environment that is open to all levels.  I believe when people come together through yoga, they leave each class lighter and brighter and are able to share this light with others.  I hope to make the world a better place one yoga class at a time.  I believe we all can be that one person that starts a chain reaction of kindness and wellness.

I began my regular practice of yoga in 2014 following a period of deep reflection and self-discovery after graduating college.  I had always been active in dance and gymnastics, worked out regularly but felt something was missing from my life.  It wasn't until I stumbled upon a Kundalini yoga video that I began discovering my purpose, expanding my yoga practice
 and more clearly defining my goals.

I was moved to go on to graduate school for my Master's degree in counseling and in the same month I registered for my 200hr yoga training at Raffa Yoga in Cranston, RI.  I was trained in Ashtanga/Vinyassa style, and while I love this style and practice it regularly, I also discovered the beauty of a slower Yin Yoga practice.  I love the way Yin Yoga stretches and expands not only the muscles but the mind.  It is a perfect style to support releasing what is no longer serving us and allows for delving deeper into what is.  I love to incorporate breathwork into the practice, as the breath serves as a great cultivator of the mind-body connection, supporting a more optimal quality of life.   
---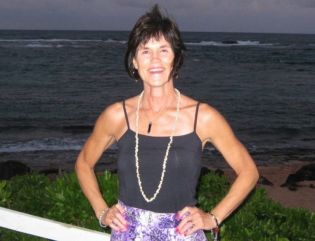 Ann Lynch Masse, I have always been passionate about health, fitness and connection. In my younger years I always felt different and that there was something missing in my life. I was searching for purpose and meaning. It was in helping serve others through exercise and healing modalities that I started to see the mind body connection. It was yoga that allowed me to start the awareness of mind/body connection to start to find myself. I started my love/hate relationship with yoga in 2009 looking for more space in my body and mind from all the tightness and mind chatter. I was not a person who was grounded or centered and knew I wanted more from life. In yoga I was cultivating a softer space physically and in my monkey mind.
I wanted to dive deeper after experiencing injuries through power yoga and in doing so I stumbled upon Hatha & Vinyasa Flow Yoga training in 2012. It was there that I starting to uncover a deeper understanding of myself and my soul's purpose. To empower, support, and serve others so that they can enjoy the wealth of health available in their temples (bodies).
I have the following certifications: 200 hour Body Matrix Hatha and Vinyasa Flow Training Kidding Around Yoga (KAY), YogaFit Teacher Training Level One, YogaFit Props Workshop, Proprioceptive Neuromuscular Facilitation (PNF), Myofascial Release, The Ball Rolling Method –The Science of Ball Rolling, Meridian Yoga, Yin Yoga Teacher Training Foundation Level 1, Designing Sequencing, Transforming Adjustments, AFAA Practical Yoga Instructor Training, Baron Baptiste 40 days to Personal Revolution. Mindfullness Based Stress Reduction (MBSR), Spinning Lifetime Certified, Girl Power Go Instructor, Enofic Ray, Jikiden Reiki and Crystal Healing, and Sensation Based Mindset Coaching
Along with the practice of yoga I enjoy biking, walking, scrapbooking, gardening, and walking Rosie, my Beagle. I am the mother of 2 daughters who have taught her many valuable lessons in life. Teaching yoga I consider an honor to share my expertise with students and am thankful for the wisdom and love received from all of my teachers.
---